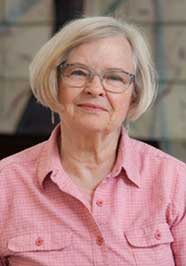 Creating in clay is an integral part of my life. I love working with soft slabs of clay and making them say something about the shapes I've lived with throughout my life. I am attracted to geometric forms and the curves and valleys of living things. Colors speak to me.
After my art degree, as a studio potter, I made functional pottery, which I sold at craft shows. During this period, I briefly studied with Robert Turner at the Penland School of Crafts. From Bob I learned that every piece I make is a spiritual journey. Gradually I started experimenting with sculptural forms.
Now, while I am working, I want to maintain the feeling of the initial softness of the wet clay in the final form. Contrasting organically curving front surfaces with geometric shapes, I make hollow three-dimensional forms to hang on the wall. The glazed surfaces of reduction-fired stoneware have always reminded me of precious and semiprecious stones. This gem like quality pulls me forward and helps me envision the finished piece while I am forming my work.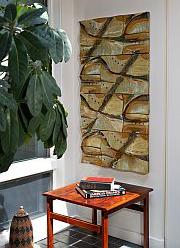 My sculptural path has led through an exploration of rectangles, right triangles, isosceles triangles, and sections with convex and concave edges. In my history, these shapes were followed by an "invasion" of the module by opening up its center. Creating this hole within a module started my square within a square series. When working with clay and making patterns one must calculate the shrinkage from the wet clay slab to the finished fired piece. It is relatively easy to calculate the shrinkage of an outside edge and relatively difficult to calculate the shrinkage of a hole. During one of my early attempts at this, there was a large gap between the outside square and the inside square in the finished piece. This event started to shift my focus to the spaces in between the modules. It led me to combine other materials with clay and to a fascination with the visual play between these interstices and the piece as a whole.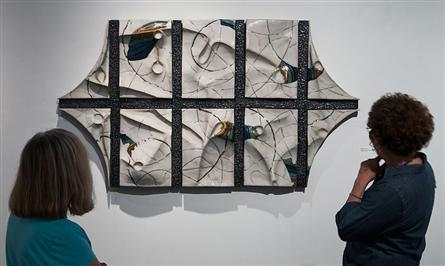 Recently my focus is on having visual conversations. I enjoy it when different parts of my work speak to one another. After nearly fifty year's experience with clay, I seem to be yielding to the use of less durable materials like fabric, and enjoying the contrast with the fired clay surface. Always, clay is primary, but I'm learning what clay can say to satin and brocade, to copper and wood.
(Read my
resume
.)